Return to Caldera
Crabseye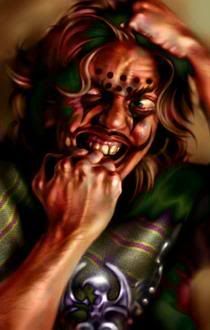 The man known only as Crabseye was a foul-smelling, skitterish man who seemed to have no setting but 'high strung'. He was first encountered on the ship the Ghostly Stallion, where he was, apparently, keeping a hag captive behind an altar dedicated to a red-skinned demon.
Crabseye possessed a good level of understanding of demonic magic and how it works, and demonstrated this in no uncertain terms when pitted against the members of the Stormseye Insurgents.
He was proned to sudden fits of anger and had been known to tear out his own hair on more than one occasion.
Death
Crabseye met his apparent death at the end of Thoradin's hammer aboard the Stallion. Chased down by the dwarf, Crabseye was battered into submission. Instead of merely falling down dead, however, he was dragged by large, red-skinned hands into a hellish portal that opened nearby. It seemed that many of his debts had yet to be paid.